HUMMERT'S PUBLICATIONS
Hummert International publications are offered to the professional whose primary source of income is generated from a horticultural affiliation. To receive any of our publications, please create an account on our website, and once your account is verified, you will be able to request a publication.




NEWS
---
12/6/2018 - The Gardener's/Grower's Winter Checklist
As the days are getting longer and the temperature continues to drop, most gardeners are wondering what can be done. Some of us are fortunate to live in ideal climates that allow us to garden outdoors year round, others however are not so lucky. Here are some ideas, whether you are still up to your elbows in soil, or warming up inside, to keep you busy during the winter months and prepare your landscape to reach its potential in the spring
[more here]
---
1/12/2018 - Press ReleaseHummert International 2018-19 Horticulture Supply Catalog Now Available
Earth City, MO – Hummert International, a worldwide distributor of professional horticulture supplies and equipment, announced today the release of their popular horticulture supply catalog. An industry essential since its first publication in 1934, today's horticulture professionals have relied on Hummert's Supply Catalog for decades.
The 2018-19 catalog features over 800 pages of horticulture products and information that serve every sector of the horticulture industry. With hundreds of pages of chemicals, fertilizers, applicators, containers, media, safety equipment, irrigation equipment, greenhouse equipment, hydroponics, lawn and garden supplies, seed and tools, Hummert's believes this is their most comprehensive catalog yet.
"We are pleased to provide our customers with newest edition of our catalog", said company president Sonny Hummert, "Thousands of man hours went into updating product information, sourcing new vendors, and making sure we provided our customers with the best possible prices. I believe our team has done a tremendous job blending previous product lines our customers have come to enjoy with new vendors and the latest in horticulture technology."
No matter what you grow or how you grow it, Hummert's has the products, knowledge and service required for today's growers. Hummert's would like to invite you to request a copy of the Hummert International 2018-19 Horticulture Supply catalog. Please call 800-325-3055 or
Contact us
to request your copy.
---
1/11/2018 - The New Hummert Catalog is Here
via GrowerTalks' Acres Online
I'll always remember how it felt to be 10 years old and to see the Sears Wish Book arrive in the mail. In those pre-Internet days, it was a kid's entire world of entertainment and longing (my, how I lusted for one of those junior drum sets.)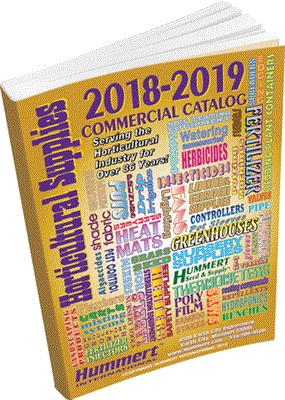 I'm reminded of that feeling when I thumb through the latest Hummert International catalog, which, at more than 800 pages, contains virtually anything you could lust after for your horticultural business— chemicals, fertilizers, applicators, containers, media, safety equipment, irrigation, greenhouses, hydroponics, lawn and garden supplies, seed, tools … . argh!
It's about time, too; the last one out was the 2014/2015 edition. Sonny Hummert told me it took nearly two years to produce this one, due to all the new products in it.
As for why, in this age of digital everything, Hummert's still chooses to print a catalog, Sonny says his customers like a physical product, something they can hold in their hands.
"You can keep it on your desk, you can keep it in your briefcase, you can look at it at your leisure, it doesn't have to be plugged in, it can go with you, it can stay on the shelf for years. We've got customers who buy from catalogs that are twenty, twenty five years old. They don't throw them away!" And it's faster than a website, he adds.
Sonny admits there's some tradition involved, as the first Hummert catalog came out in 1934. But as I wrote in my column for the February
GrowerTalks
, you need to combine tradition with modern technology. And Hummert has: Sonny says they're launching a new website where they can list brand new products that aren't in the catalog. And they use SAP to manage the business and inventory—hardly an old-fashioned way of doing business!
[https://www.growertalks.com/Newsletters/View/?article=2425]